At a Glance
Description
A good starting point for student research regarding the Vietnam War and its aftermath.
Website
Producer
Spartacus Educational
Investigating the Vietnam War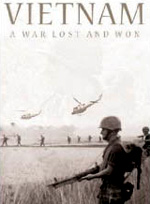 This site was designed to help students research projects about the Vietnam War. It is one of the 20 sections on Spartacus Educational, an encyclopedia of English and U.S. History created by John Simkin, a history teacher. The Vietnam site links to more than 100 sites, including timelines, personal accounts, statistics, visual images, and biographies of figures such as Lyndon B. Johnson and Ho Chi Minh. A smaller, annotated list links to 22 recommended sites.
The site provides students with approximately one hundred 1000 word biographies and email addresses of 11 people willing to be interviewed about their involvement in the war.
The site currently offers two collections of study questions, one produced at the University of California, Berkeley, and one produced by Simkin. Two professional historians host a discussion about the history of the war and help students explore the topic.
The site is slightly difficult to use; however, it is still an excellent resource for understanding the connections between personal experience and public narratives of war.