At a Glance
Description
Have you ever wondered about the international politics of Puerto Rico?
Producer
American Memory, Library of Congress
Puerto Rico at the Dawn of the Modern Age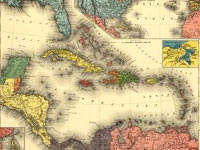 This Library of Congress American Memory site, a collaborative effort of the Library of Congress Hispanic Division and the National Digital Library Program, was created to help commemorate the centennial of the Spanish American War (1898). It traces the early history of the Commonwealth of Puerto Rico through first-person accounts, political writings, and histories.
The selections consist of 39 Spanish-language political pamphlets, 13 monographs, and one journal that highlight topics such as land, natural resources, relations with Spain, political rivalries, and reform efforts. A brief (200–250 word) summary of the item and notes about the author, publication date and place, and repository information accompany each item. The Spanish-language pamphlets are not translated into English.
The online exhibit also features reminiscences of 12 soldiers who fought in the Spanish American War. A special presentation of downloadable cartographic items from the Library's Geography and Map Division includes two maps of the West Indies dating from 1806 and 1898; seven maps of Puerto Rico (1886–1915); maps of the cities of Bayamon, Mayaguez, and San Juan, Puerto Rico; and three Puerto Rican maps from the Spanish American War era.
The site also offers links to nine other American Memory sites on related topics and a bibliography lists more than 50 related works, approximately 20 of which are suitable for younger readers. This site will appeal to a small audience because of the number of untranslated Spanish documents; additionally, the selected documents only depict a narrow slice of Puerto Rican culture and society, primarily that of political, military, and foreign relations history. But for students interested in Puerto Rican history or the history of Spanish and American relations, this is a useful site.