At a Glance
Description
Beautiful scenery or impassable peaks? These 17 in-depth essays analyze how the North American view of nature has changed over time.
Producer
National Humanities Center
Nature Transformed: The Environment in American History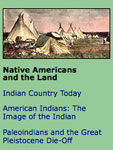 This collection of essays, commissioned from distinguished scholars, is designed to deepen content knowledge and offer fresh ideas for teaching. Essays begin with a thorough overview of the topic. "Guiding Discussion" offers suggestions on introducing the subject to students, and "Historians Debate" notes secondary sources with varied views on the topic. Notes and additional resources complete each essay. Essays include links to primary sources in the National Humanities Center's Toolbox Library and are part of the larger TeacherServe project.
Visitors can browse 17 essays, divided into "Native Americans and the Land," "Wilderness and the American Identity," and "The Use of the Land." These focus on the changing ways in which North Americans have related to the natural world and its resources. Topics include, among others, "The Columbian Exchange," "The Effects of Removal on American Indian Tribes," "Cities and Suburbs," and "Environmental Justice for All."
Useful for teachers looking to expand their content knowledge beyond the information and viewpoints presented in textbooks, and to get a taste of historians' debate over the interpretation of history.