At a Glance
Description
Covering topics ranging from the annexation of Hawaii to World War II, 29 collections document the history of Hawaii and Micronesia.
Producer
University of Hawai'i System Libraries
Digital Archive Collections at the University of Hawai'i at Manoa Library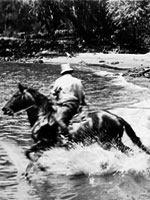 These 29 collections document the history of Hawaii and Micronesia from 1834 to the 1990s. "Annexation of Hawai'i," for example, contains thousands of pages of documents concerning the U.S. plan to annex Hawaii, realized in 1898. Materials include the 1,437-page Blount Report of 1894–95, initiated by President Grover Cleveland on the history of relations between the U.S. and Hawaii and the planned annexation; Congressional debates on the Hawaii Organic Act, passed in 1900 to establish a territorial government; and Hawaiian anti-annexation petitions and protest documents from 1897–98.
"Hawaii War Records" presents 880 photographs documenting the impact of World War II on Hawaii and its people. The "Trust Territories of the Pacific Islands" photo archive provides 52,000 photographs on programs in education, health, and political and economic development in the 2,100 islands of Micronesia administered by the U.S. from 1947 to 1994. The website also includes a collection of 16 Hawaiian-language newspapers.