At a Glance
Description
Witness the growth of the Chicago metro area with this interactive website.
Producer
University of Illinois, Chicago
Chicago Imagebase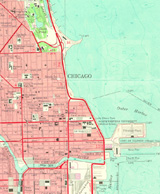 Dedicated to "enhancing knowledge about the built environment of the Chicago region," this site hopes to offer a comprehensive "system for indexing, storing, retrieving, comparing, and analyzing images, maps, data, literature, and other geographically-based materials" on Chicago.
Contains an array of historical and recent maps, photographs, and illustrations, plus textual information about Chicago's history and architecture.
Includes approximately 600 aerial photographs taken in 1996 by Alex S. MacLean; 83 photographs by C. William Brubaker; 14 by Robert Thall; multiple images of 55 buildings and historic sites; four Works Progress Administration land use maps; more than 30 images dealing with the Chicago Fire of 1871; 20 photographs by William Henry Jackson and Charles Dudley Arnold of the 1893 World's Columbian Exposition; 22 Rand McNally "Bird's Eye Views" from 1893; and numerous additional maps and images.
An animated map shows the city's expansion and the development of neighborhood communities from 1850 to 1990.
Presently, the site focuses on four Chicago areas: the "Loop," Lawndale, Armour Square, and Bridgeport. Though not updated since 1999, the site contains useful materials documenting Chicago's development.