At a Glance
Description
Communist Russia. Communist China. Communist Washington?
Producer
Harry Bridges Center for Labor Studies, University of Washington
Communism in Washington State--History and Memory Project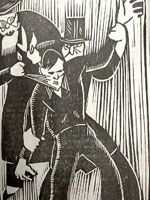 A small but well-constructed site on the activities and influence of the Communist Party (CP) in Washington State, where the CP had more significance than in most other areas of the U.S. The site contains 21 video excerpts of oral history interviews with five current members who describe experiences from the late 1930s to the present. Topics include the role of the CP in 1930s labor organizing, relations with the Soviet Union, the Red Scare that began in 1947, and anti-racism activity in the 1960s. Additional subjects cover relations with the New Left, plans for revitalization, methods of recruitment, and growing up in a Communist family. The site also offers nine essays totaling 25,000 words, accompanied by more than 200 images, that provide a narrative history of the movement. Users will also find 30 woodcut illustrations from two radical 1930s journals and an annotated timeline. This will provide a good introduction to radical politics on a local level.