At a Glance
Description
Learn about the Vietnam anti-war movement through this website.
Producer
Viet Nam Generation, Inc., and University of Virginia
Sixties Project & Viet Nam Generation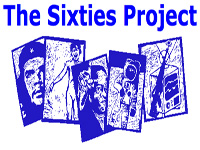 Sponsored by the Viet Nam Generation, Inc., and the Institute of Advanced Technology in the Humanities at the University of Virginia, this site is a resource for teaching and researching America in the 1960s and during the Viet Nam War. The site contains links to 17 primary documents, including materials from the Black Panther Party, the Free Speech Movement, and GI's United Against War in Viet Nam. There are more than 100 images of political buttons and posters from the era and a full-text version of Vietnam: An Antiwar Comic Book, written by civil rights activist Julian Bond after he was expelled from the Georgia legislature for protesting the Vietnam War. Additional items on the site include five keyword searchable, full-text back issues of Viet Nam Generation, a journal of recent history and Viet Nam War studies published between 1988 and 1996. The site also contains ten syllabi for courses on the 1960s and the Vietnam War. Visitors may contribute their own personal narratives about the 1960s (the quality and accuracy of these personal narratives are not controlled and should be used with caution).