At a Glance
Description
How did people learn the latest music trends without electronics?
Producer
American Memory, Library of Congress
America Singing: 19th-century Song Sheets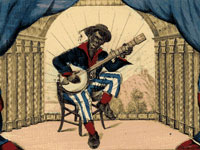 Before the phonograph, America learned the latest music fads from printed song sheets. These single printed sheets, often beautifully illustrated, included lyrics only and were sung to familiar tunes like "Yankee Doodle." The lyrics and illustrations on these song sheets offer a unique perspective on the political, social, and cultural life of the time.
This American Memory collection offers the 4,291 song sheets from the Library of Congress Rare Book and Special Collection Division, spanning the years from 1800 through the 1880s, but primarily from the 1850s to the 1870s. Each item offers an image of the song sheet, publication and repository information, and a transcription of the lyrics.
The site also includes a 2,000-word essay on the history of song sheets, links to six related American Memory collections, and a bibliography of more than 70 related scholarly works, approximately 20 of which are for younger readers. The site is keyword searchable and can be browsed by subject, title, composer name, and publisher. For those interested in how 19th-century American politics and society were interpreted in popular culture, this is a useful site.