At a Glance
Description
Provides a wealth of information on US presidential elections, with a particular focus on the 2000 election.
History of Presidential Elections Site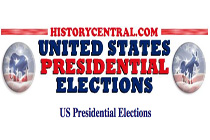 Provides statistics on all U.S. presidential elections. For each election year, the site presents graphs showing popular and electoral votes, maps of states won by each candidate, vote count and voter turnout statistics, and a sketchy essay of approximately 100 words in length on campaign issues. Offers more extensive information on the 2000 election: official certified results; polling data by five organizations from August through October 2000; biographical statements of 300-600 words each on candidates George W. Bush,Al Gore, and Ralph Nader (the Bush bio, almost twice the length of the others, reads as if it was written by his campaign organization); a chronology of events following the election until Gore's concession; and the Bush v. Gore Supreme Court decision, concurrence by Chief Justice Rehnquist, dissents by Justices Breyer, Souter, and Stevens, and oral arguments. Also includes an essay of 900 words on close and disputed elections, with links to "quick facts" about the candidates involved; an essay of 600 words about the reasons that the electoral college was created, with a link to Federalist Paper No. 68 by Alexander Hamilton, which offers a rationale for the institution; and a 15-minute multimedia history of the Supreme Court. MultiEducators of New Rochelle, NY produces multimedia software on historical subjects; graphs and texts in this site have been taken from their American History CD-Rom. A useful source for statistics on presidential elections, but marred by intrusive flashing ads.