At a Glance
Description
Explore the positions and words of a former PA Governor and Attorney General.
Website
Producer
Digital Research Library at the University of Pittsburgh
The Dick Thornburgh Papers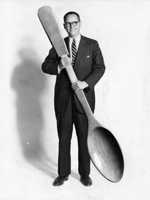 Dick Thornburgh served as Governor of Pennsylvania from 1979 to 1987, and Attorney General from 1988 to 1991, under Ronald Reagan and George Bush. He also served as Undersecretary General of the United Nations from 1992 to 1993 after an unsuccessful bid to fill John Heinz's vacated U.S. Senate in 1991. He is currently a practicing lawyer in Washington, DC. This website presents 5,115 documents from his personal papers, including executive orders, news releases, op-eds, reports, speeches, testimony, and transcripts. It also includes 488 photographs, 31 audio clips, and 55 video clips. These materials shed light on many prominent events in late-20th century U.S. political history and international relations. For example, a search for "Three Mile Island," the nuclear power plant near Harrisburg that experienced a partial meltdown in 1979, calls up more than 300 items, including photographs of Thornburgh at the site and op-eds written by Thornburg designed to quell public fear.