At a Glance
Description
An impressive gateway site for all humanities subjects.
Producer
Alan Liu, English Professor, University of California, Santa Barbara
Voice of the Shuttle: Web Page for Humanities Research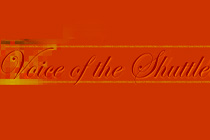 This gateway website was created by English professor Alan Liu. It contains over 70 pages of links to humanities-related resources on the internet and provides a guide to online resources in 26 subject categories, including anthropology, legal studies, history, women and gender, and minority studies.
Each link is subdivided. For example, the Minority Studies link is divided into 11 subcategories, including African American, Chicano Latino Hispanic, and Native American history. The History category is subdivided into 19 sections, such as Family History, Military History, and national and regional categories like North America, with subheadings for Canada and United States. The United States history subheading contains over 500 links to primary documents from all periods of American history.
This site contains both primary and secondary resources, and there is a History Teaching Resources link that provides resources for teachers of World History, syllabi for women and gender-related courses, and a guide to using historical places as teaching tools. The site is easy to navigate and contains a keyword search engine.