At a Glance
Description
Compare early women's rights campaigns to the rhetoric of the American Revolution.
Producer
Catherine Lavender, College of Staten Island
Liberty Rhetoric and 19th-Century American Women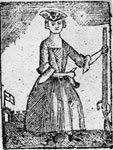 Prepared by Catherine Lavender, Professor of History at the College of Staten Island, this site teaches students about 19th-century women's use of "liberty rhetoric,"—the way of speaking about the relationship between the citizen and the state—to argue for their own liberties. The site focuses on three topics. The first section offers seven documents, two poems, and three images depicting origins of liberty rhetoric in the Revolutionary tradition. The second section provides nine documents and five images tracing the operations of the textile mills in Lowell, Massachusetts, and the liberty rhetoric that the female mill workers used during their strikes in 1834 and 1836.
This section also offers a Lowell Girl Pictorial Gallery with ten images of Lowell and the working lives of the young women who flocked to the mill town to experience some measure of autonomy and to earn money in the mills. The third section provides the text of the 1848 Declaration of Sentiments and compares it to the Declaration of Independence as an expression of liberty rhetoric.
Also provides five links to other sites, including the Library of Congress National American Women's Suffrage Association Collection and the Rochester University Susan B. Anthony Center's History of the Suffrage Movement. This site is easily navigable and provides high-quality primary document case studies on these three events in women's history.