At a Glance
Description
Discover the history of the University of California through primary sources.
Producer
Berkeley Digital Library SunSITE
University of California History Digital Archives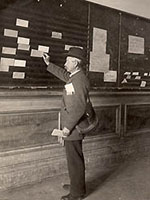 Still under construction, this site is dedicated to the history of the University of California, from its beginning as a land-grant university in 1868 to it current position as a multi-campus institution. It includes a 6,000-word essay on the founding and development of the college, as well as an interview with David Gardner, a former president of the university. The site also features several online exhibits, including The University at the Turn of the Century: 1899-2000. The strength of the site, though, is its collection of primary sources. Included are more than 70 oral histories by former administrators, politicians, students, and faculty, discussing their recollections. The site presents approximately 50 primary documents, including the 1868 act that established the school, and about 12 secondary sources. A detailed bibliography lists more than 100 books about the University of California. Students and teachers, as well as researchers, will find these resources invaluable, especially once when completed.