At a Glance
Description
More than 400 speeches by women—politicians, scientists, and celebrities.
Website
Producer
Liz Linton Kent, Director
Gifts of Speech: Women's Speeches from Around the World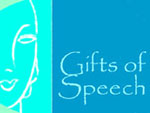 Charting changes in women's rhetoric in the public realm from 1848 to the present is possible through this archive of more than 400 speeches by influential, contemporary women. These include prominent female politicians and scientists, as well as popular culture figures. There is an emphasis on the United States (particularly after 1900), including speeches from women as diverse as Elizabeth Cady Stanton, Sojourner Truth, Mary Church Terrell, Marie Curie, Helen Keller, Emma Goldman, Eleanor Roosevelt, Betty Friedan, and Ayn Rand. A nearly complete list of Nobel lectures by women laureates provides access to acceptance speeches.
The search function is particularly useful for pulling speeches from a diverse collection into common subject groups. It also allows for the study of the language of women's public debate by following changes in the use of particular metaphors or idioms, such as the concept "motherhood."