At a Glance
Description
Take a gander at Washington state hydroelectric engineering feats of the 1890s through 1950s.
Producer
University of Washington Digital Collections
Seattle Power and Water Supply Collection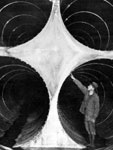 This collection features images of dams, hydroelectric power plants, and water supply facilities built in Washington State from the late 1890s to the 1950s. The archive contains 695 items, primarily photographs but also some maps, diagrams, and other documents. A book excerpt on Washington's public water projects from Building Washington: A History of Washington State Public Works (Seattle, WA: Tartu Publications, 1998) by historians Paul Dorpat and Genevieve McCoy provides perspective on the photographs. The collection is notable because "many of these dams, power plants and reservoirs were built in some of Washington's most rugged terrain and had features that represented significant engineering feats of their time." Each image is accompanied by full descriptive and bibliographic data.
The site offers three ways to search the archive of photographs: keyword search, search by collection, or an advanced search option by selected fields and subjects. Or the visitor can browse all the items by selecting "view all items" in the search drop-down menu. This website is a useful resource for those interested in the history of Western hydroelectric dams and other water projects in the first half of the 20th century.