At a Glance
Description
What was life like during Japanese American internment?
Producer
University of Arkansas at Little Rock; Japanese American National Museum
Life Interrupted: The Japanese American Experience in WW II Arkansas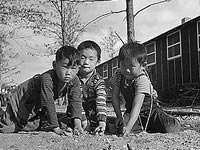 This compelling, well-designed site offers a rare glimpse into the World War II experiences of Japanese Americans in two Arkansas internment camps. A series of 30 photographs illuminates the daily lives of inmates at school, in a clinic, working at a sawmill. Physical conditions in the camp are captured effectively by several aerial views. Three QuickTime Virtual Reality (QTVR) images that allow for 360-degree ground-level views are equally impressive. These photographs are supported by an in-depth timeline of events, an interactive map, and an extensive education section providing links to resources hosted by other sites.