At a Glance
Description
Wanting to go deeper into the history of labor and marginalized groups in the U.S.?
Website
Producer
Rethinking Schools, Teaching for Change
Zinn Education Project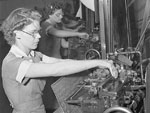 Created by the nonprofit organizations Rethinking Schools and Teaching for Change, the Zinn Education Project works to bring resources exploring the "role of working people, women, people of color, and organized social movements in shaping history" into the classroom. Inspired by the work of historian Howard Zinn, author of the popular A People's History of the United States, the website provides teachers with materials for expanding on these historical narratives.
"Teaching Materials" contains the bulk of the site's content, including more than 100 teaching activities. These can be downloaded in PDF form following free registration, and include essays, articles, interviews, and full lesson plans on topics related to marginalized groups and labor history. Titles range from "Exploring Women's Rights: The 1908 Textile Strike in a 1st-grade Class" to "What the Tour Guide Didn't Tell Me: Tourism, Colonialism, and Resistance in Hawai'i".
"Teaching Materials" also contains more than 300 annotations on audio resources, fiction and nonfiction books, films, posters, commercial teaching guides, websites, and Spanish/bilingual resources. Annotations consist of 2–3 sentences describing the resource and its relevance to Zinn's focus and classroom use.
"Teaching Materials" can be browsed by date (either selected on a timeline, or chosen from 16 time periods, ranging from "Colonialism" to "20th Century" ) or searched by one of 29 themes, five reading levels, or by type of material (teaching activity .pdfs, audio, books: fiction, books: nonfiction, films, posters, teaching guides, websites, or Spanish/bilingual).
Useful to teachers wanting to expand on the traditional textbook narratives on marginalized groups and labor history.