At a Glance
Description
View the many faces of President Nixon as captured by photographer Fred Maroon.
Producer
Smithsonian Institution, National Museum of American History
Photographing History: Fred J. Maroon and the Nixon Years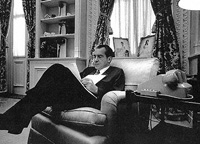 This is a companion site to a 1999 National Museum of American History exhibit of Fred J. Maroon's photographs taken during the last four years of Richard M. Nixon's presidency. Maroon, a freelance photographer known for his images of Washington's monuments and landscapes, recorded Nixon's presidency from 1970, through the 1972 reelection campaign and the Watergate controversy, to the impeachment hearings and Nixon's resignation in 1974. The site is divided into four chronologically-arranged sections. The "White House" contains photographs taken in 1970 and 1971 while Maroon worked on a behind-the-scenes book about the White House Staff; "Reelection" records images of Nixon's 1972 reelection campaign; "Hearings" offers photographs of the White House staff during the Watergate crisis and impeachment hearings; and "Final Days" captures the events leading up to Nixon's resignation in 1974. The site offers more than 25 images selected from the museum exhibit as well as a timeline of the Nixon presidency from 1968 to 1974 and a 200-word biography of Maroon. For those interested in Watergate and the Nixon administration, this is a good site.