At a Glance
Description
More than 250 television commercials trace campaign issues and the selling of American presidential candidates.
Producer
American Museum of the Moving Image
Living Room Candidate: Presidential Campaign Commercials, 1952-2008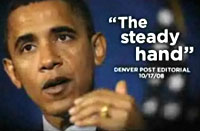 This website presents more than 250 commercials that appeared on American television sets beginning in 1952 to sell presidential candidates to the public. Advertisements from each election, including the 2008 campaigns, are accessible by year as well as by common themes and strategies used over time, such as Commander in Chief, Fear, Children, and Real People. Advertisements are also browsable by issue, such as civil rights, corruption, war, taxes, and welfare.
This collection includes well-known ads such as the Daisy Ad and well-known public figures, such as Harry Belafonte's advertisement in support of Kennedy, as well as many others that may be less familiar in the 21st century. Essays focus on analyzing advertising strategies of major party candidates and a program guide presents a history of the usage of television commercials in campaigns.