At a Glance
Description
Peruse this online exhibit on the history of Jewish life in the United States.
Producer
Library of Congress
From Haven to Home: 350 Years of Jewish Life in America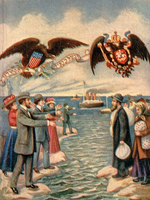 An exhibition on Jewish life in America emphasizing the themes of accommodation, assertion, adaptation, and acculturation. The website features more than 200 illustrations, portraits, and images of books and documents from Library of Congress collections. The website offers an explanatory overview of the exhibition and four brief electronic exhibits focused that help to tell a part of the Jewish story in America from 1654 to the present. Some of the items highlighted by the exhibition include the first book printed in the English settlements of America, The Bay Psalm Book printed in 1640, the first published American Jewish sermon, and a hand-drawn plaque from c. 1942 with dual Hebrew prayers for Winston Churchill and Franklin Roosevelt. A small bibliography lists 10 books plus six books for children. The site provides an introduction to the Library of Congress collections and is useful for teaching about the history of Jewish life in America.