At a Glance
Description
Learn about race in the Progressive Era through the life of Jack Johnson, the original African American Heavy Weight Champion of the World.
Unforgivable Blackness: The Rise and Fall of Jack Johnson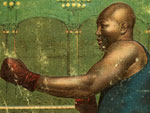 A companion to Ken Burns's film of the same name, Unforgivable Blackness provides an extensive look into issues surrounding race relations, sports, and definitions of freedom during the Progressive Era. In the documentary, Burns delves into the life of Jack Johnson, the first African American Heavy Weight Champion of the World. Johnson is explored as a man unapologetic for his strength, dominance, and defiance of society's "rules."
This well-designed website has appeal for those teaching a variety of subject matter and content at the high school level. Background information is plentiful for those unfamiliar with early 20th-century boxing history, and sections are written at an appropriate Lexile level for high school use. Fight of the Century includes an interactive link filled with photographs, music, newspaper excerpts, political cartoons, and six audio clips (Flash Player required). Discussions of political cartoons and the depictions of African Americans during the early 1900s may be necessary before viewing Fight of the Century with students. Primary sources are plentiful throughout, including full text of the Mann Act, as well as Johnson's FBI files.
Ghost in the House and Sparring provide information concerning four of Johnson's contemporaries, including boxers Joe Louis and Sam Langford. Knockout also details Johnson's dalliances with a number of white women, which led to his conviction under the Mann Act. While important to the overall discussion of race relations, this section and coinciding discussions should only occur with more mature high school groups. An additional section, For Teachers, includes 10 lesson plans that may be used in a range of classroom settings—from math and civics, to history and sociology. Lesson plans are well thought out and descriptive, yet still leave room for open dialogue and connections with relatable current events. The website was last updated in 2005, which has resulted in a lost connection with three of the eight website links listed under the Resources section.
Overall, this website provides an in-depth and user-friendly overview for those interested in connecting issues of race relations and the Progressive Era into their classrooms.