At a Glance
Description
Meet 30 influential African Americans who contributed across a wide variety of fields.
Website
Producer
Penn Library, Bridgewater State College
Hall of Black Achievement Gallery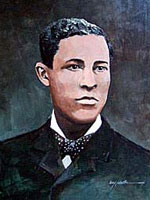 A collection of 30 biographical essays, ranging in length from 200 to 600 words, on African Americans, Cape Verdeans, and Hispanics of African descent who have accomplished significant achievements. Covers figures from Revolutionary America to the 1990s, though most of those included lived in the 19th century. All essays include portraits and links to relevant sites; 21 of the essays contain audio clips that allow visitors to hear the essays read. The selected subjects include war heroes, writers, statesmen, artists, activists, inventors, journalists, business people, and sports figures. Valuable for young users especially because of the audio files, but also may be useful to older students for the links provided.