At a Glance
Description
Explore the mid-Atlantic region with more than 1,852 maps created before 1850.
Producer
New York Public Library
American Shores: Maps of the Middle Atlantic Region to 1850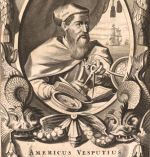 This attractive site explores the mid-Atlantic region and history with maps created before 1850. An extensive collection offers more than 1,852 historical maps of many different types. In addition to numerous regional and state maps, these include land surveys, coast surveys, nautical charts, military maps, ornamental maps, and city maps.
An overview provides historical context for reading the maps of the geographic regions. In addition, the site offers several special features. "Basics of Maps" explains such cartographic terms and features as orientation, scale, and the cartouche. "Maps Through History" highlights particular maps and map genres from the collection, including a look at New York Harbor, the Hudson River, nautical charts, maps revealing early transportation routes, and maps of American Revolution battle sites. "Geographical Areas" highlights many kinds of maps and what information they offer. Visitors can click on thumbnail images to view enlarged maps and pan and zoom the maps.