At a Glance
Description
How does your view of the American West compare to the visual reality?
Producer
Denver Public Library
Western History Photography Collection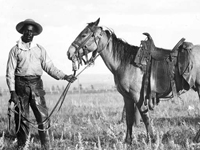 This combined archive and exhibit contains more than 100,000 images, including photographs, broadsides, posters, maps, advertisements, and other documents. There is a keyword search but no feature for browsing the entire collection. Many of the images can be browsed, however, through nine "galleries," or thematic collections of selected images. "Scenic Rails of the West" is a large exhibit with seven image galleries that include towns, touring, railroads, native culture, and national parks. The "Photos West Classics" gallery is also large and includes the most frequently requested images. Topics include children, saloons, trails and covered wagons, famous Westerners, famous Native Americans, Wild West shows, and Western life. Other galleries include "Railroads," "Building Histories," and "Native American Women." All images are accompanied by a descriptive catalog record and are available for purchase. A learning page (accessed through "news") offers 18 lessons. This website is a valuable source of images on Western figures, culture, environment, politics, and economic development. Teachers of the American West will also find valuable instructional resources.