At a Glance
Description
Explore the meeting of the Plains Indians and Anglo Americans through the fine arts.
Producer
Smithsonian American Art Museum, Renwick Gallery
George Catlin and His Indian Gallery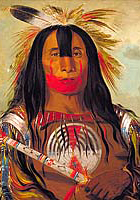 George Catlin, a lawyer turned painter, traveled throughout the American West in the early 19th century to chronicle the Native American experience. His paintings of the Plains Indians are the center of this virtual exhibit. From 1830 to 1836, Catlin visited more than 50 tribes from North Dakota to Oklahoma. His original Indian Gallery was designed to document the transformation of Native Americans and "rescue from oblivion" their customs and lifestyle.
Thirty-one of Catlin's more than 400 paintings are presented in this virtual museum, including one of William Clark, the famous explorer of the Lewis and Clark expedition. Designed for middle school and high school teachers the "classroom" section offers lesson plans that incorporate George Catlin's paintings, Native American artifacts, and primary documents to teach students about early American history, geography, and art appreciation. The lesson plans are thematic and feature scholarly commentaries on the life and work of Catlin. A valuable resource for teaching about the Indian Removal of the 1830s, the transformation of the Western frontier, and the encounter of Anglo American and Native American cultures.