At a Glance
Description
Databases of digitized firsthand accounts and literary works document periods in American history, the experiences of minorities, and other topics.
Website
Producer
Alexander Street Press
Alexander Street Press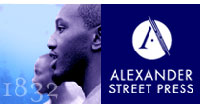 Offering 16 separate databases of digitized materials, this website provides firsthand accounts (diaries, letters, and memoirs) and literary efforts (poetry, drama, and fiction). Twelve databases pertain to American history and culture.
"Early Encounters in North America: Peoples, Cultures, and the Environment" offers primary sources documenting cultural interactions from 1534 to 1850. "The American Civil War: Letters and Diaries" draws on more than 400 sources and supplies a day-by-day chronology with links to documents. "Black Thought and Culture" furnishes monographs, speeches, essays, articles, and interviews. "North American Immigrant Letters, Diaries, and Oral Histories" covers 1840 to the present. "North American Women's Letters and Diaries: Colonial to 1950" provides full-text letters and diaries from more than 1,000 women—totaling more than 21,000 documents and approximately 120,000 pages—written between 1675 and 1950.
Five databases present American literary writings: "Latino Literature"; "Black Drama"; "Asian American Drama"; "North American Women's Drama"; and "American Film Scripts Online." In addition, "Oral History Online" provides a reference work with links to texts, audio, and video files. While the databases include previously published documents, many also contain thousands of pages of unpublished material. In addition to keyword searching, the databases provide "semantic indexing"—extensive categorical search capabilities.