At a Glance
Description
A unique website designed to foster communication regarding all of the planet's native peoples.
Website
NativeWeb: Resources for Indigneous Cultures Around the World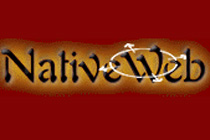 A project established in 1994 by a group of historians, independent scholars, and activists "to provide a cyber-place for Earth's indigenous peoples." Offers a gateway to more than 3,400 historical and contemporary resources relating to approximately 250 separate nations primarily in the Americas—but also including groups in Africa, Aotearoa-New Zealand, Asia, Australia, Europe, and Russia—to emphasize "indigenous literature and art, legal and economic issues, land claims, and new ventures in self-determination."
Includes 81 "history" links; bibliographies in 42 categories linking to approximately 1,000 sites with information on books, videos, and music; more than 350 links relevant to legal issues, including government documents; 41 "hosted pages" for a variety of organizations; a news digest; and a section devoted to Native American technology and art.
Resources are arranged according to subject, region, and nation, and the entire site is searchable. "Our purpose is not to 'preserve,' in museum fashion, some vestige of the past, but to foster communication among peoples engaged in the present and looking toward a sustainable future for those yet unborn." The site increases by approximately 10–15 links each week, providing an invaluable resource for those studying the history, culture, practices, and present-day issues confronting indigenous peoples of the world.