At a Glance
Description
What would it be like to live with the Dakota Sioux?
Producer
National Anthropological Archives, Smithsonian Institution
Camping With the Sioux—Fieldwork Diary of Alice Cunningham Fletcher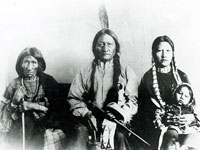 This site presents two fieldwork journals written by anthropologist Alice Cunningham Fletcher during her six-week stay with a group of Dakota Sioux women in 1881. The journals are indexed by date and can be searched or read as a narrative.
Visitors will find a 1,000-word biographical essay about Fletcher and a bibliography of sources, including three books, three Smithsonian collections of related materials, five collections of papers, and six links to sites about Sioux Indians and 19th-century anthropology of the Sioux. A gallery of 36 photographs contains pictures of Fletcher, her two travelling companions, scenes of Sioux life, and portraits of Sioux Indians, including Sitting Bull.
In her journals, Fletcher transcribed 14 folk tales related by her Sioux hosts. These tales are indexed by title and presented separately as well as in the journals. The site offers unique sources particularly useful for students of Native American history, women's history, and the history of anthropology and ethnography.