At a Glance
Description
A top notch concept: combining traveling sales with anthropological fieldwork.
Producer
Dr. Michael F. Murray, Southwest Missouri State University
Max Hunter Folk Song Collection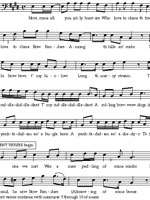 Audio files and song transcriptions of more than 1,000 songs recorded in the Ozark Mountains of Missouri and Arkansas between 1956 and 1976 by Max Hunter, a traveling salesman. The complete collection of 1,594 songs is scheduled to be available by summer 2003. Includes lyrics for all included songs; musical notations for many songs with annotations providing information on how singers phrased certain notes; listings of the name of the singer, and location and date of the recording; and, where relevant, links to variant versions in the collection or similar songs in published sources. No information is offered for composer or lyricist. Users may browse singers and song titles or search titles using keywords. Users may also listen in three formats: RealPlayer, high quality AIFF, and in some cases MIDI. The archival collection includes additional material that may be available online in the future, including "fiddle tunes, jokes, stories, and what Max Hunter called 'visits,' or interviews with the people he was recording." As some of the songs include references to current events woven into verses of traditional lyrics--for example, a version of "Down in the Valley" taped in 1959 situates the singer in the Birmingham, Alabama, jail-- the collection should prove valuable for those studying American culture as well as folk music students.