At a Glance
Description
Sixty-four photographs taken by Lewis W. Hine between 1908 and 1912 document child labor conditions.
Producer
The History Place
Child Labor in America, 1908-1912: Photographs of Lewis W. Hine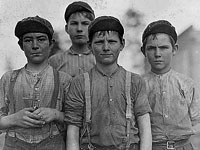 Furnishes 64 photographs taken by Lewis W. Hine (1874–1940) between 1908 and 1912. Images document American children working in mills, mines, streets, and factories, and as "newsies," seafood workers, fruit pickers, and salesmen. The website also includes photographs of immigrant families and children's "pastimes and vices."
Original captions by Hine—one of the most influential photographers in American history—call attention to exploitative and unhealthy conditions for laboring children. A background essay introduces Hine and the history of child labor in the United States. This is a valuable collection for studying documentary photography, urban history, labor history, and the social history of the Progressive era.