At a Glance
Description
Explore mid-19th century culture as presented in the Godey's Lady's Book, a women's magazine.
Website
Producer
University of Vermont
Godey's Lady's Book Online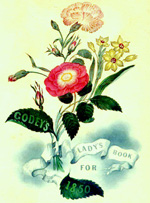 Provides three full issues—July, August, September 1855—of one of the most popular 19th century publications, Godey's Lady's Book. Each issue includes poetry, engravings, and articles, as well as a section on Victorian fashion. In addition to these full issues, the site also includes a Samples Collection, which features selections from the Book during the years 1855-1858. These samples are divided into six main categories, each of which is further broken down to make the content more accessible. Overall, this is a useful resource for teachers and students interested in aspects of Victorian popular culture.