At a Glance
Description
Meet international anarchist and women's rights activist Emma Goldman.
Website
Producer
Jewish Women's Archive
Women of Valor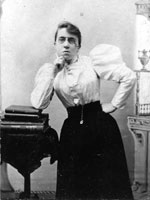 This site introduces Emma Goldman—an immigrant, an advocate of free love, a promoter of birth control, and an anarchist. The designers have done a splendid job in tying the many facets of Goldman's public life together into one set of interrelated narratives. An "Introduction" is divided into 13 thematically coherent sections, such as Early Years, Anarchism, Use of Violence, and Deportation. Each runs approximately 500 words. A Timeline is useful for placing Goldman into historical and cultural context.
There are several dozen artifacts, including the full text of two books, six cartoons, four historical documents, an analytical essay, two personal letters, 12 news clippings, and 16 photographs. The information is well documented, and includes a detailed bibliography.
The care that the producers took in explaining potentially confusing or problematic terms (like feminism and suffrage) makes the site particularly appropriate for high school and undergraduate students. Although not a comprehensive archive, this site nonetheless provides an informative introduction to Goldman and her role in American history.