At a Glance
Description
Learn about the American south in the late 19th century through 141 firsthand texts.
Producer
University of North Carolina, Chapel Hill and American Memory, Library of Congress
First-Person Narratives of the American South, 1860-1920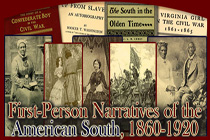 Features 141 texts relating to the culture of the American south "from the viewpoint of Southerners," during the latter half of the 19th and beginning decades of the 20th centuries, " a period of enormous change." Focusing on the voices of women, blacks, laborers, and Native Americans, the site offers a variety of documents--including ex-slave narratives, travel memoirs, personal accounts and diaries, and autobiographies, such as Narrative of the Life of Moses Grandy; Late a Slave in the United States of America (1843). Includes some materials published prior to 1860. Provides a 31-title bibliography, with some resources geared toward young readers, and links to 13 related sites. Part of the University of North Carolina's digital library project, Documenting the American South, which is described further in its own History Matters entry.