At a Glance
Description
What do you know about the 1980s Savings and Loan crisis?
Producer
Federal Deposit Insurance Company (FDIC)
FDIC Historical Studies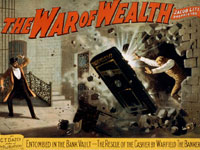 On this site, the Federal Deposit Insurance Company (FDIC) provides information about the history of deposit insurance with a special emphasis on the bank failures of the 1980s and early 1990s. More than 800 pages of text are available in PDF format. Documents include a 76-page history of deposit insurance from the 19th century to the 1990s, a chronology and bibliography of 174 books and articles about the Savings and Loan crisis of the 1980s, a listing of 27 government studies of deposit insurance and bank failures, annual statistical information on the banking industry beginning in 1934, and a listing of bank failures from 1991 to 2000. The site provides access to two two-volume studies about what the FDIC and Resolution Trust Corporation learned from the crisis years about the causes of bank failures and how to prevent them in the future. The material is presented in a way that is accessible to non-specialists. Economic and business historians will find the site useful for primary source material, while the site's analytic material might be used in upper-level high school and college courses.