At a Glance
Description
Turn off the lights, and explore the ghost towns of the West.
Website
Producer
Daniel Ter-Nedden, Carola Schibi
Ghost Town Gallery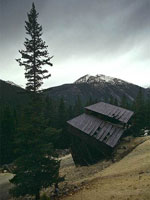 Designed to document approximately 180 ghost towns in Colorado, New Mexico, Arizona, Montana, Nevada, California, Idaho, and Utah, this site features more than 1,700 photographs taken in the year 2000 of ghost towns across the west. About half the photographs include captions, while the other half do not. The site features a 750-word essay on the history of the Gold Rush, as well as an interactive map of the west that allows visitors to highlight a region, then an area, then a ghost town, to view photographs of the selected town.