At a Glance
Description
A collection of over 2,100 early baseball cards.
Producer
American Memory, Library of Congress
Baseball Cards, 1887-1914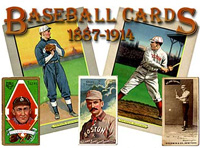 A collection of 2,100 early baseball cards, featuring more than 1,000 major and minor league players who represented teams in 13 leagues and 75 cities. Includes legendary players, such as Ty Cobb, Tris Speaker, Cy Young, and Walter Johnson, in addition to managers and owners, such as Connie Mack, John McGraw, and Charles Comiskey. Provides a nine-title bibliography. Searchable by keyword for material written on the cards, and by name, team, league, and city. Primarily of interest to sports historians, the cards, originally distributed as advertising material in cigarette packs, can also be used in the study of commercial advertising and printing processes.