At a Glance
Description
How have childhood and gender roles changed over time? Browse five housekeeping books for girls.
Producer
University of Wisconsin Digital Collections
Playing House—Homemaking for Children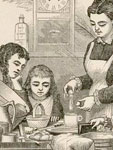 This collection presents five digitized instruction manuals published between 1877 and the 1930s targeted at teaching girls the art of homemaking. These manuals include Elizabeth Stansbury Kirkland's Six Little Cooks, or, Aunt Jane's Cooking Class (1877) Mabel Louise Keech's Training the Little Home Maker, by Kitchengarden Methods (1912), Elizabeth Hale Gilman's Housekeeping (1916) and Things Girls Like to Do (1917), and Betty's Scrapbook of Little Recipes for Little Cooks: Saved from Wisconsin Agriculturist and Farmer (1930s).
These books focus on cooking, cleaning, laundry, household management, and instruct girls in the proper way to, for example, make a bed, decorate a table, serve a meal, make furniture, or prepare for the Christmas season.
All volumes can be browsed in their entirety, or keyword searched. Several are accompanied by photographs and other illustrations. This collection is useful for the history of domesticity, family life, cooking and food, as well as childhood and girlhood.