At a Glance
Description
Looking for resources on the Constitution? What better place to look than a center dedicated to its legacy?
Website
Producer
National Constitution Center
National Constitution Center: Explore the Constitution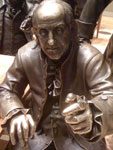 Understanding the significance of the U.S. Constitution requires more than simply reading its text. This website provides context and tools designed to historically contextualize the U.S. Constitution and help users assess its lasting impact. An interactive Constitution lies at the heart of the website, providing line-by-line commentary by current scholars alongside excerpts from contemporary primary sources. Users can also search the Constitution in connection with specific court cases, topics, and keywords.
An interactive timeline in the exhibit "Centuries of Citizenship" provides useful background information. Additional contextual information is available in the form of a set of "fast facts"; descriptions of "basic governing principles," such as the rule of law, Federalism, and judicial review; detailed biographical information on all delegates to the Constitutional Convention; and audio discussions with scholars and pundits on topics ranging from voting to prominent court cases to women in the Early Republic. Three scholarly essays provide different "perspectives on the Constitution," reminding users that the success of the Constitution in uniting a group of diverse territories was far from assured in the late 1700s. Related primary sources in the "Founding Documents" section allow users to trace the relationship between the U.S. Constitution and the Magna Carta, the Mayflower Compact, and the Virginia Declaration of Rights.
New editions include the interactive experience "Lincoln's Crossroads," in which students face some of the choices Lincoln faced during his presidency; "A More Perfect Union," an exhibit on Barack Obama's 2008 speech on race at the Constitution Center; " and "Seize the Vote," a 4-player game testing voting rights' knowledge.