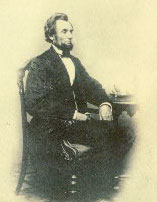 Sun 4 2009
The History Channel and the Abraham Lincoln Bicentennial Commission are offering a National Teach-In on the life and legacy of Abraham Lincoln on Thursday, February 12, 2009, at 1:30EST. (The History Channel also publishes a minisite including videos and essays on Lincoln.)
The Teach-In features two Lincoln Scholars: Matthew Pinsker and Harold Holzer. They will share their expertise and answer student questions from throughout the country. Content recommended for middle through high school, with an emphasis on eighth grade.
Questions? Please email lincoln@aetn.com.
Please consult A New Look at Abraham Lincoln and Lincoln Bicentennial for previous articles on classroom resources for the bicentennial.