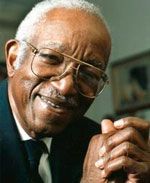 Wed 25 2009
John Hope Franklin, African American historian, professor, and civil rights activist, passed away on March 25. His life work changed the way we explore, analyze, construct, and teach American history. "He not only studied history; he made it," explains an editorial in The Washington Post.
Franklin lived and acted with a conviction that historians have a voice and an obligation to the present and to the determination of public policy. "Using one's skills to influence public policy seemed to be a satisfactory middle ground between an ivory tower posture of isolation and disengagement and a posture of passionate advocacy that too often deserted the canons of scholarship," he said.
The specter of color is apparent even when it goes unmentioned, and it is all too often the unseen force that influences public policy as well as private relationships. (John Hope Franklin)
As an historian, he is credited as the first to contextualize African Americans in the historiography of American history with the 1947 publication of From Slavery to Freedom: A History of African Americans, a book he continuously revised and whose sales have exceeded 3 million copies throughout the world. As his obituary from Duke University states, "At the time From Slavery to Freedom was published, there were few scholars working in African-American history and the books that had been published were not highly regarded by academics. To write it, he first had to give himself a course in African-American history, then spend months struggling to complete the research in segregated libraries and archives—including Duke's, where he could not use the bathroom."
He published his last book, Mirror to America: The Autobiography of John Hope Franklin, in 2005.
In the almost-60 intervening years, John Hope Franklin wrote history, taught history, and made history. The articles and multimedia links below highlight his life and hint at the depth of his influence.
News from the American Historical Association includes links to Franklin's work and online interviews.
One might argue that the historian is the conscience of the nation. (John Hope Franklin)
Duke University Remembers John Hope Franklin is a website dedicated to accomplishments, quotes, statements, and images. The site (including the detailed obituary cited earlier) offers the opportunity to share condolences and memories. The Gallery includes filmed interviews with Franklin, courtesy of University of North Carolina TV.
Franklin was the James B. Duke Professor Emeritus of History at Duke University where he founded the John Hope Franklin Center for Interdisciplinary and International Studies and whose Rare Book, Manuscript, and Special Collections Library houses the John Hope Franklin Collection of African and African American Documentation.
The John Hope Franklin Humanities Institute, a part of the Center for Interdisciplinary and International Studies, has also posted biographical interviews with Franklin on his work as a historian, including Dr. Franklin on the Role of the Historian in the World.
Franklin is memorialized in a comprehensive biography in The New York Times.
He spoke with journalist Gwen Ifill about his autobiography and the state of race in America in 2005 during a PBS interview.
Under Historians in the News, the History News Network encourages readers to post their memories of John Hope Franklin, links to news articles and videos, and offers articles from the HNN archives by and about Franklin.