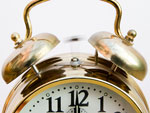 Wed 19 2011
Deadlines are approaching for several national professional development programs!
On Feb. 1 (NOTE: deadline extended to Feb. 15th!), the Gilder Lehrman Institute of American History stops accepting applications for its summer seminars for teachers. The week-long seminars take place at colleges and universities nationwide, and teach classroom strategies focused on using primary sources effectively. Apply for any of 40 seminars on a range of topics, including Native American history, the Civil War in global context, the 20th-century women's rights movements, and the role of the Supreme Court in American history. Participants will receive a $400 reimbursement.
On Mar. 1, the National Endowment for the Humanities stops accepting applications for its Landmarks of American History and Culture Workshops for School Teachers and Summer Seminars and Institutes for School Teachers. The 20 one-week workshops take place at or near significant cultural or historical sites and explore strategies for teaching with place and primary sources. Topics range from "Crafting Freedom: Black Artisans, Entrepreneurs, and Abolitionists in the Antebellum Upper South" to "The Richest Hills: Mining in the Far West, 1865–1920," and participants receive a $1,200 stipend. The seminars and institutes last from two to six weeks, with 13 focusing on U.S. history, including, among other topics, teaching American history through song, Appalachian history and culture, jazz and Motown, and Upper Mississippi River Valley archaeology. Participants receive stipends ranging from $2,100 to $4,500.
February 11 is the deadline for applications to the U.S. Holocaust Memorial Museum's Teacher Fellowship program. Each year, 15 secondary-level educators from across the country are chosen to serve as museum representatives, engaging in outreach activities to encourage quality teaching on the Holocaust. Participants attend a five-day all-expenses-paid summer institute in DC.