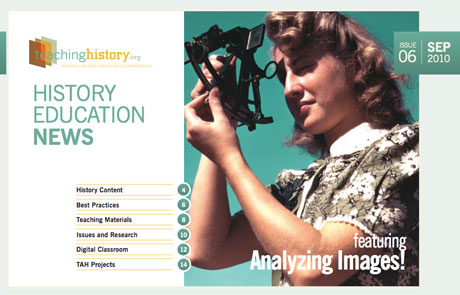 Thu 2 2010
As the new school year begins, turn to Teachinghistory.org for inspiration and resources! This month, we mail out the 6th issue of History Education News, our print newsletter. Filled with website and article recommendations, this issue tells you where to go to find resources and ideas for engaging your students with visual primary sources. From paintings of Paul Revere's ride to iconic Civil War photographs, learn how other educators have used images in class and discover archives of images you can use yourself.
In this issue, we also introduce a new section of the website, Digital Classroom. Digital Classroom spotlights new online and hardware tools showing up in classrooms across the country, such as interactive whiteboards and social media. Check it out for overviews of tools and videos of classroom use. Look for the section to grow in the future!
To request a copy of the newsletter, fill out our subscription form.