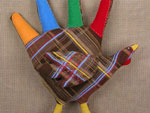 Sat 27 2010
The Challenge of Thanksgiving
Thanksgiving is a complicated holiday. As seen in most elementary schools, one would never guess that, however. Small children parade up and down the hallways in feather headdresses and construction paper hats with buckles. They trace their hands to make turkeys and color pictures of the Mayflower. The story we teach them is straightforward as well. Unfortunately, it's inaccurate. Very little of what we do in elementary schools regarding Thanksgiving is accurate.
We give credit to Pilgrims in New England with celebrating the first Thanksgiving in 1621. However, there were documented celebrations of thanksgiving in many other areas prior to this and likely many for which we have no documentation. Pilgrim children did not wear hats with buckles on them and Native Americans in New England did not wear feather headdresses. I don't think our elementary school children would be the only ones surprised by these facts.
Resources for Tackling the Challenge
There is no other holiday with which I struggle as much as I do with Thanksgiving. As a day to give thanks, to recognize all that we have, it is a day I love to share with students. When it comes to the actual history of Thanksgiving, it is much tougher. Attempting to help young children understand the realities of the interactions between settlers and Native Americans is a monumental task. It is also a task I don't believe to be developmentally appropriate for early elementary school students.
There are many wonderful places to look for useful information for planning lessons throughout the elementary years. Plimoth Plantation has several good resources. An interactive You are the Historian takes students through myths and facts, daily life for Pilgrims and Native Americans, and the lead-up to 1621. There are also several interesting articles about Thanksgiving. However, Berkeley Plantation on the James River in Virginia also claims to have celebrated the first official Thanksgiving.
For primary source resources, the Library of Congress has a collection that includes letters and proclamations about Thanksgiving, photographs of Thanksgiving celebrations, and paintings depicting artists' interpretations of the Plimoth Thanksgiving. For the history of Thanksgiving as a holiday the Smithsonian has a brief, well-written article.
As for my 1st graders, this year we'll be reading Eve Bunting's How Many Days to America? A Thanksgiving Story. This book tells the story of a young family hurriedly leaving a Caribbean nation, facing many challenges in an attempt to reach America. It's a beautiful tale of giving thanks. We'll share our reasons to be thankful and celebrate them.