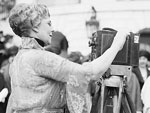 Thu 3 2011
African American History Month ends, and Women's History Month begins! Take a glance around the internet, and you'll find plenty of resources for teaching women's history—whether it be the Seneca Falls Convention, heroes of the American Revolution and the Civil War, social activists, First Ladies, workers during the World Wars, jazz and blues stars, or presidential candidates. You'll find photographs of many of these women, too—working in factories, on the campaign trail, helping the wounded, conducting scientific experiments.
But who takes these photographs? Who makes these images that become the records of history? Aren't the people behind the camera as significant as the ones in front of it?
Of course they are, though they can easily be forgotten. When we look at photographs of Amelia Earhart, we rarely ask who took the photo. When we're struck by a picture of New York during 9/11, do we ever ask if it was snapped by a man or a woman?
Explore women's history behind the camera this Women's History Month. What have women chosen to capture on film, as they record and live through history?
Taking Photos and Making History
If photographs aren't enough, branch out into art, journalism, fiction and nonfiction writing, and other ways of recording and responding to the world, all meant for the public eye. What have women created and documented? What were their (myriad, uncountable) reasons for crafting "snapshots" and composing reactions? Women make history when they're behind its lens, as well as in front!
Further Resources
Looking for more resources? Take a quiz on women in history, with our weekly quiz archive! See how well you do on quizzes with subjects like women in the West. Search our Website Reviews, as well—we've reviewed and annotated more than 200 websites with women's history content.
If you'd still like more, these organizations feature content and pages created just for Women's History Month:
For more information
Speaking of photographs, the Smithsonian is looking for help identifying women in photographs with missing or incomplete background information. Take a look and see if you can help out!