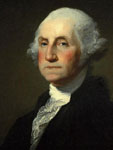 ,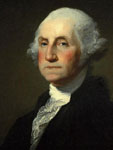 Tue 28 2011
Using primary sources in a primary classroom is a challenge. Many of the most wonderful sources are text-based. For students who cannot read and who are still developing their vocabulary these sources are very difficult. Simply understanding the Pledge of Allegiance, words students recite every day, can be frustrating for young children.
As a result images are often a better way to offer primary grade students a window into the past. They are accustomed to looking carefully at pictures in books and they notice things that adults frequently miss. Allowing them the opportunity to do the same with historical images is a powerful way to teach.
Many schools across the nation have a collection of posters from the National Endowment for the Humanities, Picturing America. This collection includes 40 large reproductions of artwork, including paintings, sculpture, architecture, photography, and crafts. There are images of Native American pottery and a Catholic mission in Texas. Portraits of George Washington and Paul Revere as well as photographs of statues of Ben Franklin and Robert Gould Shaw and the 54th Regiment are also included. There is a painting of Allies Day in 1917 and a photograph of quilts from the 18th and 19th centuries.
Around a specific holiday or as we begin to study a person or period I post one or two of these pieces up in my classroom. For several days the art hangs there for students to enjoy and think about. Before Martin Luther King, Jr. Day, I use a photograph of the Selma to Montgomery march in 1965. Some students will notice the photograph immediately and begin asking questions. Typically I'll answer them briefly, just enough to keep them interested. After a couple of days we'll bring the photograph over to the carpet and talk about it. The questions the students ask frame our eventual discussion of King and the Civil Rights Movement. I'll keep the photograph up for a while as we continue to study the issue so that we can refer to it or simply soak in the image.
Other pieces I use are the Stuart portrait of George Washington and the Leutze painting of the Crossing of the Delaware. These offer the opportunity to analyze our first president and the many roles he played in his life and in the formation of our country.
The collection comes with a resource book full of information about the artwork and the artists and lesson ideas. In addition, the website has more resources. Even without the collection of artwork the website can guide teachers in the use of art as primary sources. Any of these images can be shown from the internet with a projector for students to study. Art teachers often have reproductions of art available as well.
Young children are highly visual and images allow them to see the past. Simply hanging historical art and images in your classroom will spark questions and discussions. Not only will students begin learning about a person or period though their own observations, but the image is something they can hold onto throughout the study and in the future.
For more information
Check out the Picturing America website to view all of the images Orr describes—and more.
With field trips often harder to find time and money for these days, you and your students can take a virtual trip to an art museum with Google's Art Project. More than 100 websites we've reviewed also include art in their primary source collections.
Depending on your students' level, you may want to guide them through the steps in analyzing composition when introducing them to artwork as primary sources.
Want to learn more about teaching with art? Daisy Martin provides some ideas and Carolyn Halpin-Healy offers hers.