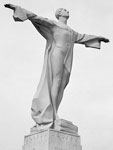 Sun 8 2012
April 15, 2012, marks the centennial of the sinking of the RMS Titanic, a disaster that still looms large in popular imagination. Why is the Titanic so well remembered? What sets it apart from the hundreds of disasters at sea that have happened before and after?
Use the centennial as a chance to ask your students how they know what they know about history. Do they know about the ship? Where did they learn about it? From a book or a movie? Your students can bring together the skills of historians and scientists to uncover their own answers about the disaster—from who was on the ship to why it sank to how the story of the Titanic fits into history and the present day.
Where to begin? We've gathered some ideas for places to start your search for resources:
For more information
James Cameron's film Titanic has helped keep the disaster in public memory. But does the film say more about 1997 than it does about 1912? Historian Steven Biel shares a critical look at Titanic in a film review reprinted from the Journal of American History.