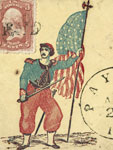 Wed 6 2012
Do you celebrate Flag Day? Though not an official federal holiday, June 14 (one week from today) memorializes the day when the Second Continental Congress approved the first version of what evolved into our modern national flag.
Since 1777, the flag has gained 37 stars and exact specifications for color and design, but it's always been recognizable. Red, white, and blue, it has waved over people, places, and events throughout U.S. history. How much do your students know about the flag and its history? If you ask them to share what they know, do they offer stories about Betsy Ross or the writing of "The Star-Spangled Banner"? Use these stories as starting points or explore other pieces of flag history with free online resources.
On Teachinghistory.org
Historian John Buescher describes the history of the flag—and the history of the story of Betsy Ross.
Historian Alan Gevinson looks at the design of the Confederate flag and how it differs from the U.S. flag.
In Lesson Plan Reviews, we explore the strong points of a Smithsonian Institution lesson on "The Star-Spangled Banner" and the War of 1812.
The Wider Web
For more information
Looking for resources for other holidays? How about heritage months? Check out Teachinghistory.org's spotlight pages! Spotlight pages are available all year long and update constantly.