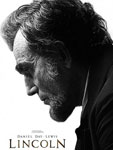 Thu 29 2012
Have you seen Steven Spielberg's film Lincoln? With a Rotten Tomatoes critic approval rating of over 90% and audience approval of more than 80%, viewers praised the film for its earnestness and significance, and for Daniel Day-Lewis's performance as the president.
But what do historians have to say? How do they approach the film, and how do they assess it? Even if your students haven't seen the film, reading historians' reviews can help them understand the ways of thinking and types of knowledge that historians use to assess historical accuracy, bias, intended audience, and more.
What do historians' reviews focus on? Do they talk about the same things as "normal" critics' reviews? Do all historians share similar opinions about the movie? How do historians structure their reviews? Does each review make an argument?
Take a look at these reviews to get started:
Students not ready for reading these reviews? Ask them where they think the sound in films comes from. The Washington Post reveals that many of the sounds in Lincoln come from historic buildings and artifacts—including one of Abraham Lincoln's pocketwatches.
For more information
Was Abraham Lincoln, Vampire Hunter more historically accurate than Lincoln? No, but you could still use it to teach! Check out our blog entry on the film.
Also see our blog entry on the film The Conspirator. How does it portray Mary Surratt, the only woman accused in the assassination of Abraham Lincoln?