Image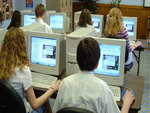 Question
Is there a historian that would be willing to Skype a 4th-grade classroom on the American Revolution?
Answer
There are two levels to your question—how does one find a historian who would speak to a 4th-grade class, and how does one find a historian who will Skype into the classroom? The first question is much simpler than the first. In my experience, historians greatly value current and future students of the discipline, so I often find they are quite receptive to opportunities to talk about their subjects. At the American Historical Association we maintain fairly wide-ranging databases of faculty in almost every field of specialization, and regularly suggest names of specialists that might speak on particular historical topics.
While a growing number are willing to experiment with technologies such as Skype, most tend to just dismiss them as too much trouble
The next question you should ask is—how generally you want someone to speak on the topic? For instance, would you be looking for someone who could provide a broad overview and then take questions from students, or would you be more interested in someone who could talk in some greater depth about a specific aspect of the Revolution? There are hundreds of historians who work and teach in this area of American history to choose from, but that is where the added criteria about finding a historian who will Skype into the classroom creates a complication. In a survey of historians conducted last year, AHA found that they are much more likely to use technologies for personal research than interpersonal communications and teaching. That statistic certainly bears out in my work with other members of the discipline. While a growing number are willing to experiment with technologies such as Skype, most tend to just dismiss them as too much trouble. I often have to coax historians to participate in meetings with Skype, even though they often find it all much simpler and easier to use than expected. Hopefully, as these technologies become more ubiquitous that problem will disappear, but for now it would significantly complicate your request. I can't think of any databases other than our directories of history departments and members. (Unfortunately they are gated, though I am always happy to dig into them for anyone who writes or calls looking for help.) Part of the problem may be that I am a little too stuck in the world of academics. The best first step for finding a potential speaker is probably to just look on your bookshelves for the authors of books on the subject, or even Wikipedia, which has a pretty good list of popular surveys on the topic. From there, a quick Google search on the author's name will usually take you to their faculty page, which will almost always have an email address. You really don't have to be shy about writing to ask them if they would be willing to speak to your class. A simple and direct request, noting that you are trying to develop your students' appreciation of history and desire to help them understand how history gets made should elicit a generous response. Even if they cannot assist, they are likely to have a student or two who also writes on the subject and could also be asked to serve. In my experience, most historians are happy to assist as time and opportunity allows.