1916 Children's Code of Morality: A Guide for Pre-Service Teachers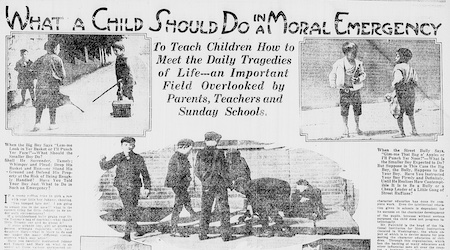 What is it?
In 1916 an anonymous businessman offered a prize of $5,000 for "the best code of morals suitable for use by teachers and parents in the training of children". According to one newspaper this code was badly needed because: "In the schools of the United States there is no such thing as character education — a fact that is measurably accountable for the large percentage of young people who grow up into dishonest, lawless or otherwise undesirable citizens". The competition was organized by the National Institution for Moral Instruction (later renamed The Character Education Institution). To judge the best code of morals, a three person panel was selected: a Supreme Court justice, Mahlon Pitney, a professor of moral philosophy at Yale University, George Ladd, and Eva Perry Moore of the National Mother's Council. The winner was William Hutchins, President of Berea College, who came up with 10 "laws of right living" that could be used to train children. A later competition offered $20,000 to develop methods for teaching these laws in schools. 
In this guide you will find:
Primary sources from the Library of Congress along with context and tips for how to support students as they analyze these sources.  

Ideas for connecting these sources to a variety of commonly taught topics including industrialization,

immigration

, and

compulsory public education

in the

Progressive Era

United States. These resources would also fit well with any unit on character education or values education which are part of the curriculum in many states. 
Suggestions for activities and assignments that build on this topic and these sources including tips for class discussion and developing an activity where students create their own character education plans.
Focus questions as students explore these sources:
What were the concerns about children's morals and behavior in this period?

What ideas were proposed to improve children's behavior?

What themes do you notice in the sources that might explain this anxiety and worry about children? 

What else was happening at the time that might explain these concerns?

Should character education be a part of the school curriculum? 
 
Approaching the Topic with Students
This guide will use a variety of newspaper articles from 1916 to 1924 that will allow students to explore the effort to develop and promote a "code of morals for children". To understand the historical context it might be useful to review the responses of the Progressive Era to the large-scale immigration of 1900-1915 when 15 million people immigrated to the United States. A resource on this history can be found here at the Library of Congress: https://www.loc.gov/classroom-materials/united-states-history-primary-source-timeline/progressive-era-to-new-era-1900-1929/immigrants-in-progressive-era/
Unlike previous generations of immigrants, these immigrants tended to come from eastern and southern Europe rather than northern and western Europe. Some middle class reformers were alarmed by the number of immigrants and what seemed to them to be large cultural differences between these new arrivals and those who had previously immigrated to the country. Religion played an important role here too as many of the immigrants were Catholic or Jewish and many of the reformers were Protestant. Worried that these groups might not assimilate into United States culture, reformers pushed for government programs to promote "Americanization" of recent immigrants. As a part of this effort, new public high schools were created where free schooling had previously ended at 8th grade. Laws requiring children to attend school were passed along with laws in part to ensure that the children of immigrants assimilate into American culture. 
The Moral Code Competition
This context helps explain why the idea of teaching a moral code might have seemed urgent to some Americans. When the competition was announced, the reaction was mixed. Some strongly agreed with the idea that a moral code was needed and children needed to be trained. The article quoted above in the intro included the headline, "What a Child Should do in a Moral Emergency" and featured pictures of children facing hypothetical moral dilemmas such as "When the Big Boy says, 'Lem-me Look in Yer Basket or I'll Punch Yer Face!' What Should the Smaller Boy Do?" (Richmond Times Dispatch May 21, 1916) https://chroniclingamerica.loc.gov/lccn/sn83045389/1916-05-21/ed-1/seq-49/
Teachers might project the page for students on a white board and then zoom in on the photos and captions either as a class or on individual devices if available.
Teachers might also have students dig further into the text of the article. Depending on reading ability, teachers can distribute excerpts such as this one which outlines why character education is necessary: "In the schools of the United States there is no such thing as character education — a fact that is measurably accountable for the large percentage of young people who grow up into dishonest, lawless or otherwise undesirable citizens. Such education is a fundamental need of the nation. It is impossible for the child to protect its own interests in matters concerning character development. Therefore in matters of the kind it has a right to look to teachers and parents for help and guidance, intelligently given."
Or this one which addresses critics who propose that the Bible's Ten Commandments are already sufficient moral code (sources that make that case can be found below):
"Some foolish persons, having learned of the competition, have in all seriousness offered the Ten Commandments as the best possible code. But (says Mr. Fairchild) the Ten Commandments are written for adults. The first half of them deals with religious duties exclusively and not with moral problems. How about the latter half? 
"Honor thy father and thy mother" is appropriate for children. Likewise, "Thou shalt not kill," if there is a question of using a knife in a fight—a thing happily rare among boys. The seventh commandment can have no application to children. "Thou shalt not steal"? A much-needed commandment in the child world. But to children, what significance has "Thou shalt not covet thy neighbor's house"? Most children never think of doing such a thing. A boy Is usually well satisfied with his own house, and to cast a slur on it means a fight. 
"Thou shalt not covet thy neighbor's wife." Why should a child covet a wife? What does a girl child want of a wife? A neighbor's wife would be some other child's mother, and all children want their own mothers. "Nor his man-servant, nor his maid-servant." But in the homes of nine out of ten children who go to the public schools there is no servant at all. Unfortunately, a child has to wait to grow up before the moral ideas of adults are of any use. to him. It is just this lack of a definite moral code for children that, through the prize competition above described, the National Institution for Moral Instruction hopes to supply."
When showing this primary source to students, encourage them to examine the images and the text that accompanies them. Prompts might include: 
What problems does the article seem to be concerned with? 

How might this connect with what we already know about the time period? 

What surprises you? 
Other reactions to the competition are revealing as well. Some responded that the a new moral code was not needed because the Ten Commandments already existed:
But interestingly the context specifically did not want the code of morals to be based in a specific religion. For example, they specifically asked representatives from multiple religions to participate including Catholic educators:
The Winning Code
The winning moral code developed by William Hutchins included the following ten laws which were published here along with an explanation of each:
Here are the Hutchins winning laws:
The Law of Health: The Good American Tries to Gain and to Keep Perfect Health

The Law of Self Control: The Good American Controls Himself

The Law of Self Reliance The Good American Is Self-Reliant

The Law of Reliability: The Good American is Reliable

The Law of Clean Play: The Good American Plays Fair

The Law of Duty: The Good American Does His Duty

The Law of Good Workmanship: The Good American Tries to do the Right Thing in the Right Way

The Law of Team Work: The Good American Works in Friendly Cooperation with his Fellow Workers

The Law of Kindness: The Good American is Kind

The Law of Loyalty: The Good American is Loyal
While these rules were new in one sense Hutchins also proclaimed that they were laws that "the best Americans had always obeyed". Teachers can encourage students to examine these laws and consider how they reflect the historical time period. Prompts might include: why do you think there's such a focus on being a "good American"? What laws would you not be surprised to see as rules in school today? What laws would you not expect to see today? 
 
Teaching Students to be Moral: The Iowa Plan
After the winning moral code was announced, The Character Education Institute held another competition to award $20,000 to develop a plan to teach Hutchins's laws in schools. The winner was a group of professors and public school administrators from Iowa whose approach was outlined here: 
The plan argued that character education was necessary for democracy. Their plan was not to add extra lessons to schools' curriculum but instead to incorporate character education into what was already being done. Also it relies on what it called the "collective judgment of ones peers" to enforce laws rather than relying on the authority of teachers and principals. 
As students engage with this source, teachers can ask students to reflect on what they think the legacy was of this effort to teach students character: Are some of these rules or these methods still used in schools? Do we have the same concerns over the effects of student morality on democracy? 
Using these Sources in the Classroom
Teachers can use all of these sources to deepen students' understanding of the Progressive Era through a topic — teaching students a moral code — which should engage students and provoke discussion. This can be done as a whole class activity, in small groups,  as a "Think-Pair-Share" or any combination thereof according to what fits each class best. Alternatively the sources can be broken into parts with different excerpts assigned to different groups. What is important to emphasize is that students slow down their thinking, take time to examine the sources and notice details for interpretation or questioning. Encourage students to make connections with what they already know and also understand that each source is just a piece of the puzzle. Encourage them to imagine: What might those other puzzle pieces be? 
These sources can be part of a deep dive during a Progressive Era unit or part of a larger project. Students might develop their own plan for character education for the present day. Would they have a contest to determine the best moral code to teach children? If they did, who would judge the contest? What would the criteria be for judging the entries? Whether they decide to have a contest or not, how would they teach character education in schools? Students can work in groups to make their best case for what character education look like and then compare with the history of the 1916 Moral Code for Children. Also once the theme of character education for children has been introduced, teachers can revisit the topic for later historical eras. For example, students might investigate what concerns over children's morality existed during WWII, the 1960s or the 1980s-90s. 
General Tips for Teaching Controversial Subjects
Teaching history inevitably means teaching about topics that generate strong reactions from a wide range of people. While not every reaction can be anticipated, the following tips can provide a strong basis for a rationale for your learning activities:
Center activities on primary sources. Primary sources are tangible evidence that allow students to engage directly with history. These primary sources in particular were preserved and digitized by the Library of Congress because they were deemed important to the history of the United States. 

Discussion and analysis of these sources can be wide ranging, but within each class those discussions can always be turned back to the source itself. 

The sources are also, by definition, only pieces of a puzzle. They bring us closer to understanding the past but there is always room for doubt and uncertainty.  

Questions, Observations, and Reflections should come from students. These are primarily student-directed learning activities. It is the instructor's role to create a space for inquiry and empower students to drive the inquiry. 

Linking to state or national standards can provide support and justification for classroom activities such as these. Immigration is explicitly mentioned in many state standards for example and many states have character or values education in standards as well. The activities in this guide also link to NCSS Themes including Theme 1: Culture ("The study of culture examines the socially transmitted beliefs, values, institutions, behaviors, traditions and way of life of a group of people")  and Theme 10: Civic Ideals and Practices ("All people have a stake in examining civic ideals and practices across time and in different societies")